What's the difference between shutters and blinds? A lot more than you might think. If you're shopping for window treatments for your home, continue reading!
The differences between shutters and blinds go far beyond the difference between horizontal and vertical lines. There are no wrong answers when it comes to window treatments for the home, however, we at Shutters And More believe that shutters offer your home a number of different features and value that blinds just… don't. In today's blog, we'll be breaking down how! Stay tuned to learn why wooden plantation shutters offer you the most bang for your buck of any window treatment!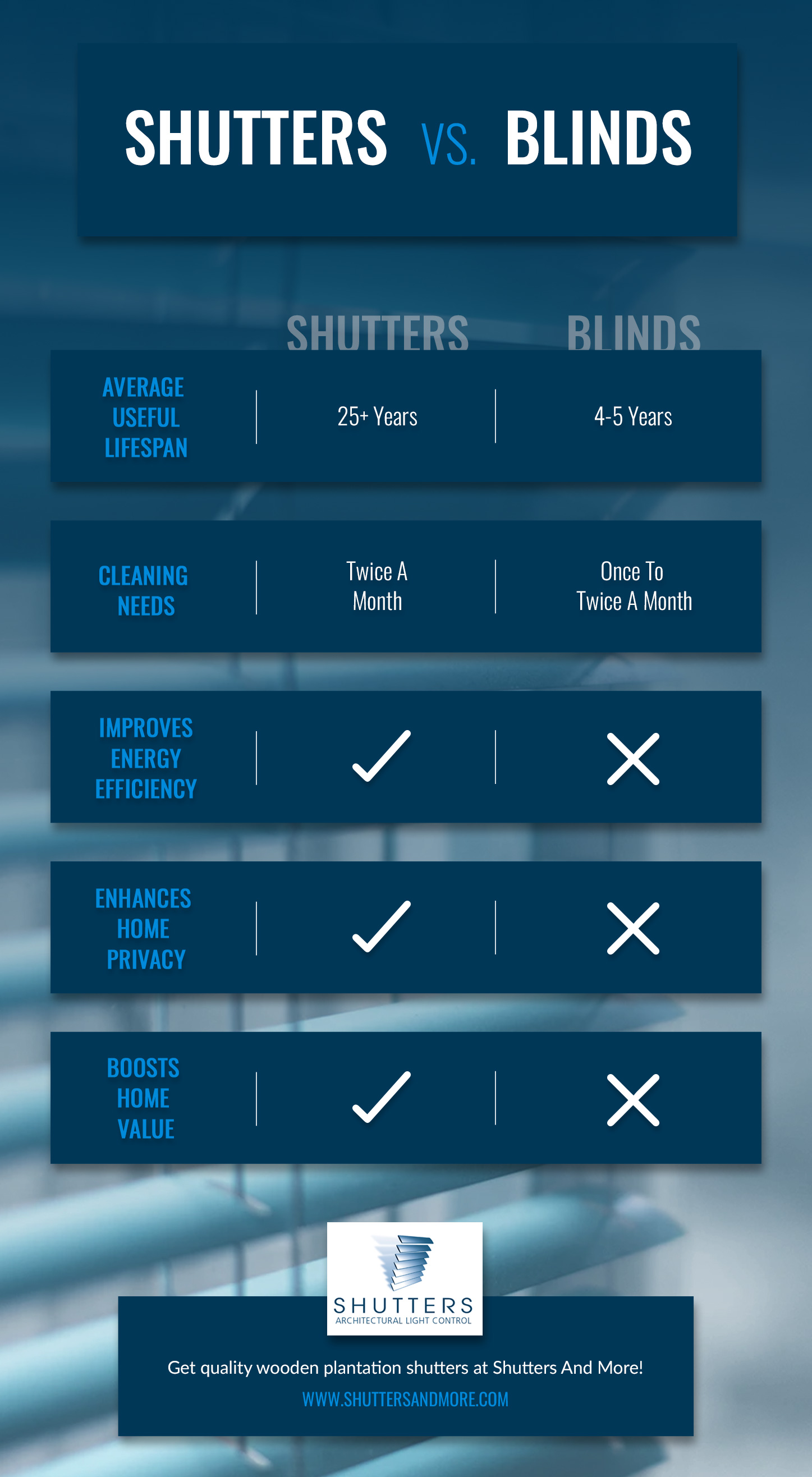 Longevity
When shopping for window treatments, you may notice that plantation shutters are noticeably not as cheap as blinds and wonder why shutters are worth the investment. However, the price difference comes down to quality, and when you're looking at blinds, you might as well multiply the price tag by five. Why? Because your average plantation shutters will last five times as long as blinds. 
It's true — the average useful lifespan for wooden plantation shutters is a hardy 25 years, whereas your average set of blinds last just four to five years. Why go the cheap route now and have to go window treatment shopping again in just a few years when you can invest in quality plantation shutters and never have to budget for new window treatments for at least two decades?
Both shutters and blinds are relatively low-maintenance, as most will get by and look great with just a simple dusting every once or twice a month. 
Aesthetics
Aesthetic value comes down to personal taste — beauty is in the eye of the beholder, after all — however, plantation shutters are generally more prized for their aesthetics than blinds. Our gorgeous wooden plantation shutters fit with most neutral and clean color schemes (and can be painted to fit any scheme) and add elegance to any home design. Blinds, on the other hand, are often utilized in smaller spaces to provide a sense of coziness or warmth. 
Privacy
Here's where the value of plantation shutters really starts to shine. Blinds are not known for adding privacy to a home — after all, what nosey neighbors or bandits can't see through vertical cracks between blinds? Plantation shutters, on the other hand, allow you supreme control over both natural light in your home and the level of privacy you enjoy inside. 
Value
Wooden plantation shutters don't just provide superior privacy and light control to your home,
They also enhance your home's energy efficiency by providing another layer of insulation on your windows, helping to keep summer heat out and your home's heating inside during the chilly months. This is an invaluable feature in a hot area like Los Angeles, and blinds don't offer the same boost to your home's efficiency.
---
Get Quality Custom Wooden Plantation Shutters In Los Angeles
Now that you know the value that plantation shutters can add to your home, why not take the next step in your shopping for window treatments? Visit Shutters And More in Los Angeles to learn why wooden plantation shutters are the best value for your home's window treatment needs!